We are very excited to announce our very first research study where we look at a number of factors behind how people secure themselves. The report has a foreword from Adrian Leppard, former City of London police commissioner who gives his unique perspective on cyber crime after a career cracking down on criminal activity. Just […]
We are very excited to announce our very first research study where we look at a number of factors behind how people secure themselves. The report has a foreword from Adrian Leppard, former City of London police commissioner who gives his unique perspective on cyber crime after a career cracking down on criminal activity. Just […]
We are very excited to announce our very first research study where we look at a number of factors behind how people secure themselves. The report has a foreword from Adrian Leppard, former City of London police commissioner who gives his unique perspective on cyber crime after a career cracking down on criminal activity.
Just to set the scene, over 50% of the participants said they had been attacked in the last year. This means it is basically a coin toss between you being attacked. The average person is now over 10x more likely to be attacked online than robbed.
When we first started planning this study, we wanted to ask a few very basic questions such as:
Why don't people do more to protect themselves?
and
Do people want to be trained on how to be safe or just be told what to do?
The results were starling. When it comes to training, most of us just don't care. In fact, 61.5% of us would rather just be told what to do (and how to do it) rather than sit through training seminars, click through computer based training slides or watch funny videos.
Another interesting insight we found is while many people use tools like anti virus to keep them safe, no one category was even close to 100%. This means the level of protection is extremely uneven due to lack of awareness and motivation by individuals to protect themselves.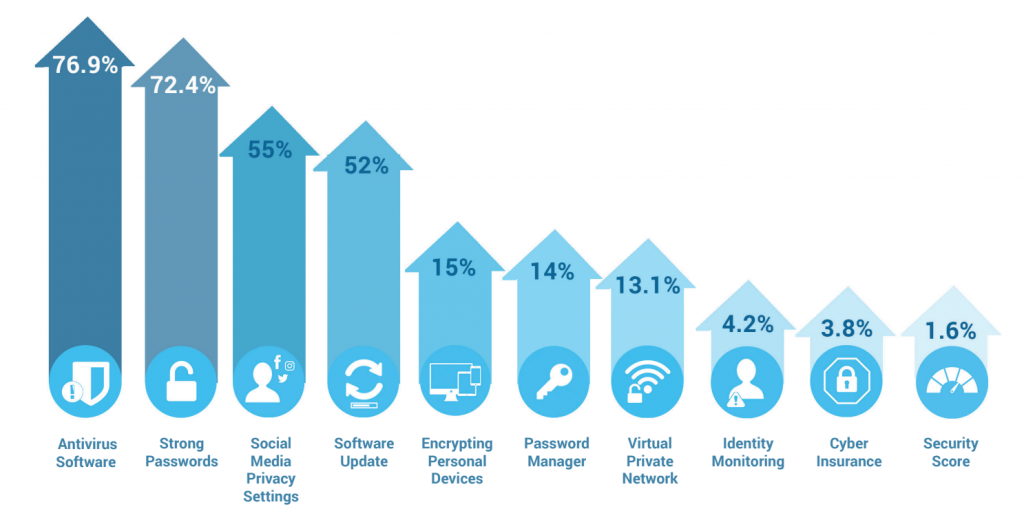 We also found that only 3% of people think they do enough already to protect themselves, this is reassuring as it shows we want to do more. A whopping 38% said they just don't know where to start when it comes to protecting themselves.
I would sum the problem up as "I know I should do more to protect myself but I don't know what or how."